Olympia Waterproof Deck
Add flair and function to your home or business with a waterproof deck
A waterproof deck keeps water from falling to areas below
We can customize your deck in a variety of exciting ways, and even build custom deck drains
As professional contractors serving Olympia homeowners for many years, we will work with you to make your ideas come to life
Contact us today at (360) 628-6716 to create a custom deck for your home or business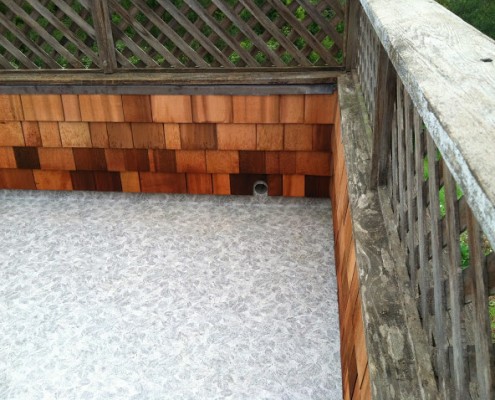 A Waterproof Deck Enhances Your Property
Some of life's fondest memories are spent hanging out on your deck with family, friends, and neighbors. Cookouts, family reunions, and simply gathering for the big game are all activities that make your deck unlike any other addition to your home. So, if you're thinking about building a deck, there are a number of things you need to consider.
A deck is an extension of your home, so its design must align with your current decor and architectural style. Additionally, there are many options to consider when building a deck, so it's good to pinpoint features that suit your lifestyle.
For businesses, a waterproof deck is essential when there are common areas under the structure of the deck where people gather or wait. Still, there is no reason to let functionality stand in the way of creating the deck that serves you or your customer's best, so we will put our experience and professional knowledge to work to help you design and build the perfect fit.
From start to finish, we work directly with you so that you can turn the spark of an idea into a deck that will enjoyed for as long as you own your property. We've been doing the same for other Olympia home and business owners since 2008, offering quality turnkey workmanship on waterproof decks that are the envy of all the neighbors.
Designing Your Olympia Waterproof Deck
While building a deck is relatively straightforward, there are a number of considerations to make before we can accurately detail what it will cost to build you one. Some factors that you may want to consider when contacting us include:
How will the deck be used?
How many square feet will the waterproof deck ultimately be?
What materials would you like to use?
Will you want to add features like overhangs or rail benches to the design?
Will fixtures such as a hot tub be a part of the deck?
What is your preference for deck staining and finishing?
You may not be able to answer all of these questions without first getting some guidance from our professionals, so don't hesitate to give us a call. We are familiar with just about every material, finish, and feature that can be added to a deck, and we may have some suggestions you haven't even thought of, based upon what you're planning for your deck.
We will guide you through all of the various options, in detail, so that you can make informed decisions regarding your Olympia waterproof deck. Our local Olympia experience makes us uniquely qualified to build a deck that is waterproof and ready to withstand whatever mother nature may throw at it.
Olympia Waterproof Deck Construction
Some Design Elements to Consider for Your Olympia Waterproof Deck
Your custom deck masterpiece starts by making decisions on the overall design and then hammering out the details regarding features and finishes. There are special considerations to make when designing and building a waterproof deck, and what follows will help you better understand these various options.
Duradek – Duradek is a vinyl pedestrian traffic membrane that offers permanent waterproof protection for decks, and has been successfully used for more than 40 years. Not only is Duradek perfect for building a waterproof deck, it is stable, strong, and slip-resistant. Durakek also comes with a ten year warranty, so you can go about your daily life worry-free, knowing your customers or guests are safe and dry.
IB DeckShield – This product is a skid-resistant membrane made from reinforced PVC film that will make any commercial or residential deck waterproof. It can be used on any deck, even ones that incorporate design elements like hot tubs, pools, stairways, balconies, or exterior walkways. DeckShield will adhere to most deck surfaces, including plywood or any other rigid surface. Fade resistant and easy to maintain, this product offers a fine option for waterproofing a deck.
Vinyl Decks – This is a cost effective, low maintenance solution to creating a waterproof deck. Vinyl decking comes in just about any color you can think of, with textures that mimic wood grain if so desired. Cleaning and maintaining vinyl decks is easy and is perfect for people that simply don't have the time to do the regular maintenance necessary to keep wood decks looking new. Vinyl decking does have some limitations, so it's good to discuss this option with your general contractor.
Sleeper Decks – Sleepers are used to wood decks to elevate them above the ground and prevent them from rotting. Sleepers also make it possible to build a deck in a tight space using less effort. Moisture and air flow freely under the deck when sleepers are in place, and saves time and money because a full frame is not required for construction of the deck.
Custom Deck Drains – A waterproof deck may also need to have water diverted to specific areas, and this is where custom deck drains come into play. Your Olympia waterproof deck can be outfitted with drains to meet your specifications.
Contact Us Today and Get Started on Your Waterproof Deck
For many homes and businesses, a waterproof deck is a necessity that cannot be ignored. Make sure you protect your deck investment by working with a contractor that understands Olympia's unique climate.
Contact Mike Winter General Contractor today for more information about building your own custom waterproof deck. We strive to offer competitive prices and always work directly with our clients to achieve total success while staying within budget.